Directions from Inside Scottsboro The Potted Cottage and Iron Hill Farm can be found by taking Broad Street (AL 279) south toward Guntersville from US 72. Go over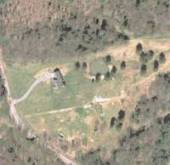 the North Sauty causeway, then go about a mile further and look for County 76. Turn left on 76, make an immediate left (toward Camp Maranatha) and continue following the lane straight over the ridge. We're the first house after the ridge on your left side -- look for the llamas!
Directions from Outside Scottsboro We're easy to find. Follow this link: Map to The Potted Cottage and Iron Hill Farm .
The Potted Cottage and Iron Hill Farm are located in beautiful Scottsboro, Alabama. Scottsboro is in the northeast corner of the state, about halfway between Huntsville, AL and Chattanooga, TN at the intersection of US 72 and AL 35. It is about 3-1/2 hours from Atlanta, 2-1/2 hours from Nashville, 2 hours from Birmingham, 1-1/4 hours from Chattanooga and 1 hour from Huntsville.
Scottsboro is on the Tennessee River (Lake Guntersville), at the south end of the Cumberland Ridge of the Appalachians. We have boating, fishing, hunting, caving, hiking and other outdoor activities very close by. We have many outstanding golf courses both here in Scottsboro and within easy driving distance. Our close-by bigger neighbors have other great attractions, such as Huntsville's Space and Rocket Center and Chattanooga's Tennessee Aquarium and Rock City. We'd love to have you visit!
Scottsboro is on Central time.
We can be reached at
Iron Hill Farm
Ken, Karen & Noah Johnson
595 Jeffery Drive
Scottsboro, Alabama 35769
(256) 259-2164